Student American Association of Osteopathy
Club Description
The Student American Academy of Osteopathy has been organized by students of osteopathic medical colleges with 2 goals in mind.
1) To acquire a better understanding of osteopathic principles, theories and practice, which include
helping students attain a maximum proficiency in osteopathic structural diagnosis and treatment
fostering a clear concept of clinical application of osteopathy in health and disease
2) To improve public awareness of osteopathic medicine so that the community may better take advantage of the benefits provided by the complete health care concept of osteopathic medicine.
---
Officers
President: Nicholas Cherico
Vice President: Jacklyn Adebayo
Secretary: Kennedi Roman
Treasurer: Jet Murphy
National Liaison: Bricarah Thull
Advisor: Dr. Stephany Esper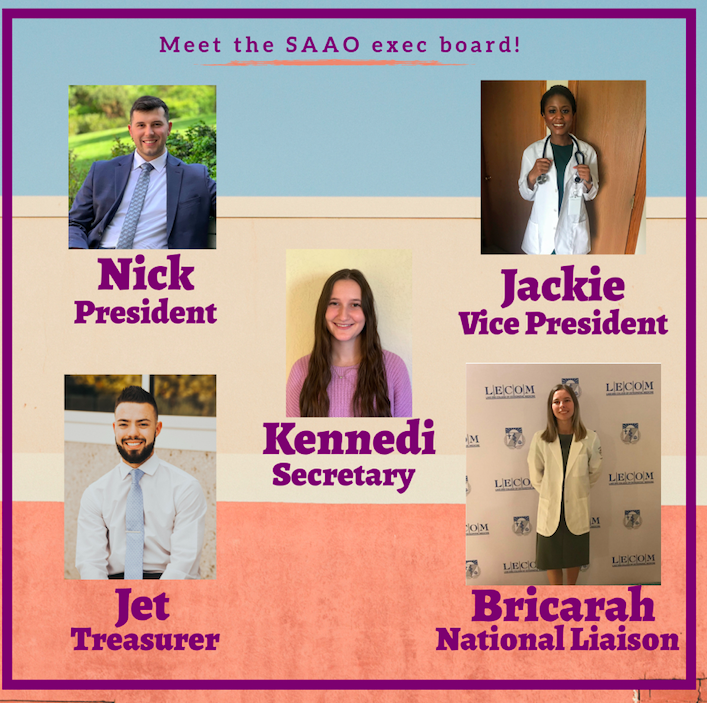 ---
News & Events
SAAO is selling club t-shirts to members to generate club spirit and funds for our convocation trip.

If you've ever wondered about the precise application of the OMM techniques cultivated in OPP lab, your curiosity is about to be satisfied. We invite you to mark your calendars for October 18th at 5 p.m., where we'll gather in the OPP…

SAAO is selling chances to win an OPP table (portable massage table). Tickets will be sold from August 5th to August 15th at the following prices. 1 ticket for $1.00, 3 tickets for $5.00, and an arm's length (12 tickets) for $10….

Become a member of the SAAO and join us for our fall forums to practice your OMT skills!