Club Description
This club will be of special interest to anyone that foresees a profession in Oncology. With that being said, cancer patients often have many other health conflicts other than their cancer, frequently from subsequent complications by chemotherapy. This club will offer insight into these patients' lives and treatments to better sympathize and better treat your patient in any field of medicine.
Officers
Oncology Club would like to introduce to you, the new 2022 E-Board Officers! If you are interested in learning more about the field of Oncology and joining our efforts to raise cancer awareness, this club is a great fit for you! Please stay tuned for more information about our upcoming guest speaker events and volunteer opportunities. We look forward to serving you this year!
Reach out to us at lecom.oncology@gmail.com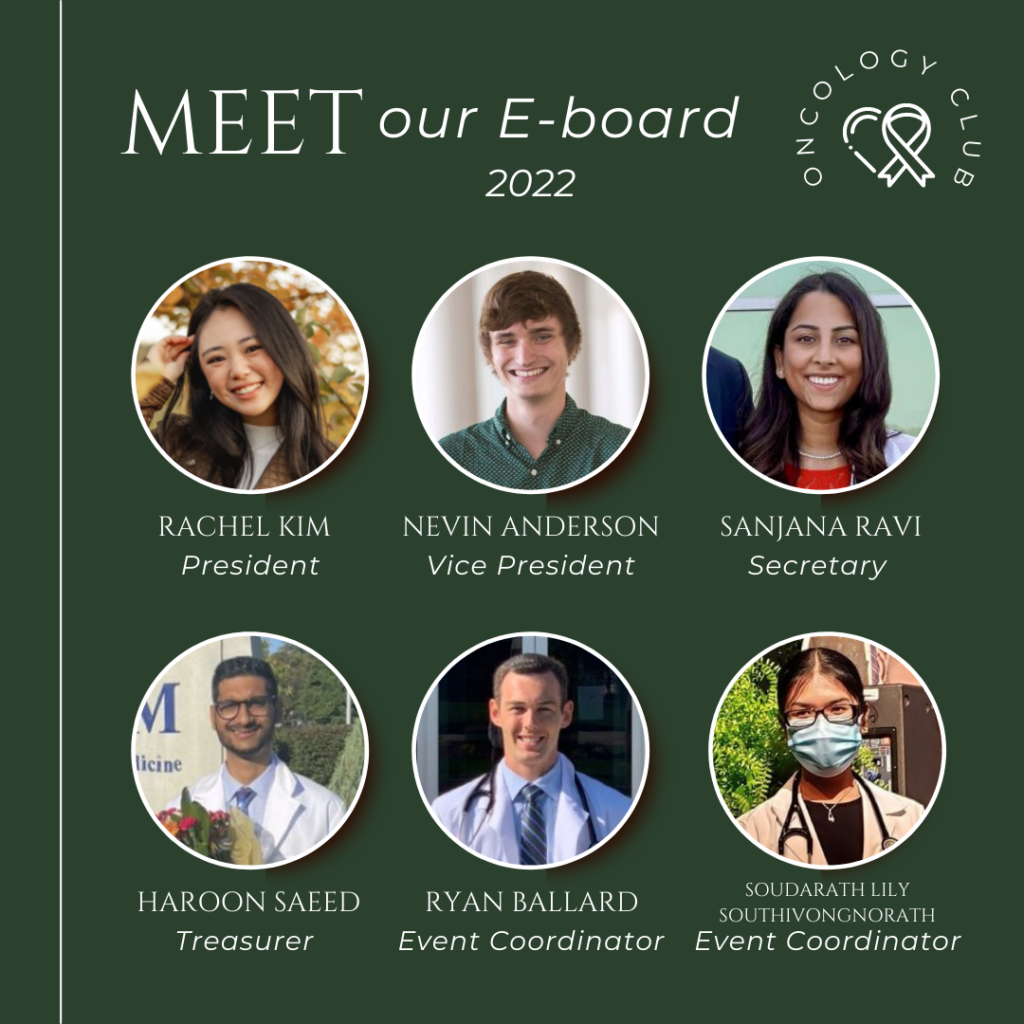 PRESIDENT: Rachel Kim
VICE PRESIDENT: Nevin Anderson
SECRETARY: Sanjana Ravi
TREASURER: Haroon Saeed
EVENT COORDINATORS: Ryan Ballard and Soudarath Lily Southivongnorath
News & Events
Pediatrics and Oncology Club will be presenting a guest speaker, Dr. Louis Rapkin in a virtual Q&A session on March 30 at 5 pm. He is a Pediatric Hematologist and Oncologist at UPMC Children's Hospital in Pittsburgh and will be discussing his…

LECOM Oncology Club and the Student Research Association invites you to join us at our very first Cancer Research Symposium! Our goal is to introduce students to the rapidly growing field of cancer research and hopefully spark interest in such a significant…

Oncology Club would like to welcome all members to attend a Q&A session with Dr. Richard Riedel, who is currently the Program Director for the Hematology-Oncology Fellowship at Duke University. Dr. Riedel will provide insight into a profession in Oncology and the…

Join us in welcoming Dr. Laura Vater, MD, MPH, who is a hematology-oncology fellow, writer, and speaker. Dr. Vater will be presenting on Cultivating Compassion in Medicine and more about the Heme/Onc specialty for students who are interested in pursuing this fellowship….
---