Club Description
ACOS-MMS is the official section of the American College of Osteopathic Surgeons (ACOS), and the local ACOS chapter at LECOM is one among the COM (Colleges of Osteopathic Medicine) that strive to promote the goals of ACOS at local and national levels. Medical students who obtain membership in LECOM ACOS are encouraged to continue their interest in the surgical specialties, to become proactive in the surgical field, to participate in the ACOS activities and governance, and to promote the fundamental principles:
Stressing the understanding of osteopathic principles in relationship to disease in the practice of surgery;
Helping to promote education in the field of surgery, including gowning and gloving, scrubbing, sterile technique, suturing and tying techniques, operating room behavior, instrumentation, universal precautions, osteopathic manipulative management of the surgical patient, pre and post-operative management of surgical patients, and surgical documentation; and
Providing a forum for discussion amongst students and surgeons.
By becoming a ACOS member, medical students can gain access to national resources, such as research, scholarships, and other opportunities.
---
Officers
President: Alisha Weinstein
Vice President: Matt Waibel
Secretary: Delayna Evans
National Liaison: Jenna Walter
Treasurer: Phil Costa
Advisor: Dr. Risavi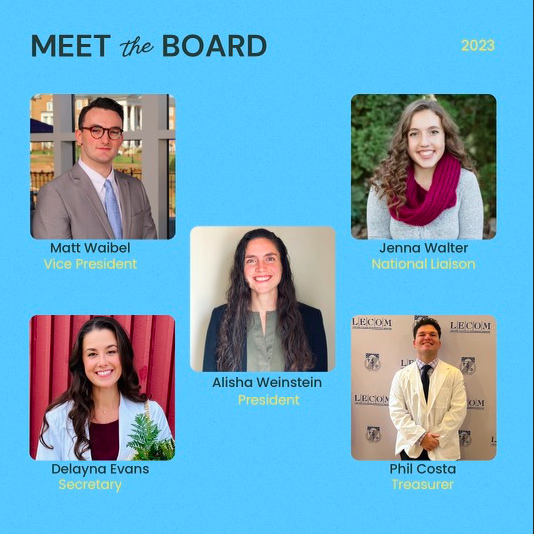 ---
News & Events
ACOS-MSS will be hosting the second anatomy mock practical on September 19th. This will be open to ACOS members only!

ACOS is hosting a volunteering opportunity at the Second Harvest Food Bank Warehouse on September 9th! There will be a sign up link for those who are interested.

Dr. Abby Bennett is a new LECOM graduate who matched General Surgery at University of Buffalo this year. She will be sharing her journey throughout medical school, including in the classroom, rotations, and the surgery residency process. There will also be a…

LECOM ACOS-MSS is excited to give members an opportunity to obtain an International Trauma Life Support Certification. It will consist of several lectures as well as hands-on skills stations with a practical at the end. This is an opportunity for members to…