Club Description
LECOM-APAMSA aims to address the health challenges of the Asian American, Native Hawaiian, and Pacific Islander (AANHPI) community. The organization's mission is to bring together Asians, Native Hawaiians, Pacific Islanders, and others to have a strong, collective, public, and political voice. LECOM-APAMSA will work towards promoting the health and advocating for the AANHPI community, while serving as a space for medical students to develop personally and professionally into culturally sensitive future physicians.
---
Officers
President: Cindy Lam
Vice President: Grace Lim
Treasurer: Muhammad Musa Khattak
Secretary: Porsche Lee
Diversity Director: Caitlyn Lee
Faculty Advisor: Dr. Mohammed Razzaque, MBBS, PhD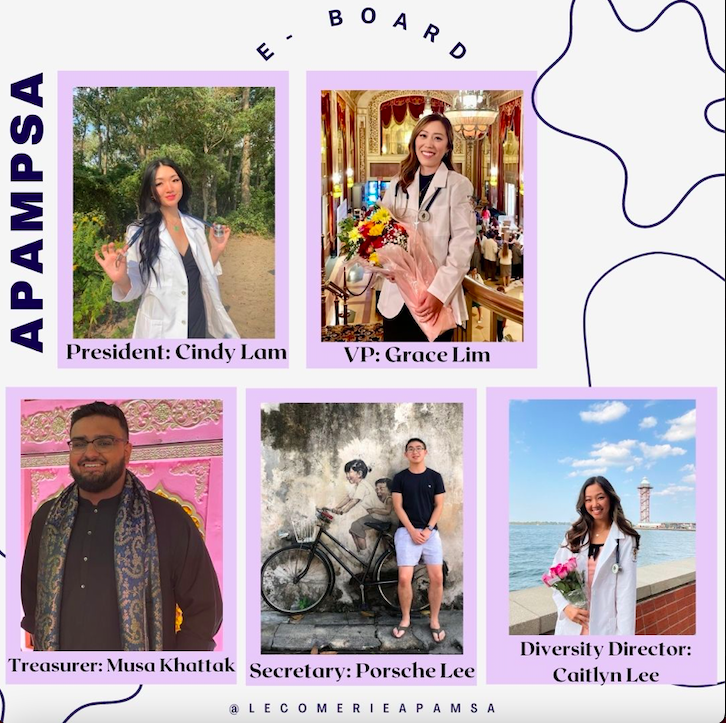 ---
News and Events
APAMSA will be hosting a fundraiser in collaboration with Erie's own Andora's Bubble Tea Shop located on State Street near Gannon University. Students, faculty, and staff are welcome to present our flyer during their visit to help raise funds for our club….

Holi, also known as the "Festival of colors" or "Festival of Love," is a Hinduism tradition that will be celebrated by LECOM students in March. It marks the end of winter and welcomes in the arrival of spring.

We are inviting Dr. Christine M. Lomiguen, MD a current professor at LECOM to speak about her experiences as an Asian American Physician practicing in rural communities. Attend the zoom meeting to gain insight on her experiences in medicine in the Philippines…

Diwali, or Dipawali, is India's biggest and most important holiday of the year. The festival gets its name from the row (avali) of clay lamps (deepa) that Indians light outside their homes to symbolize the inner light that protects from spiritual darkness….