Club Description
The Pediatrics club is a club open to all students who are interested in the specialty of Pediatrics or who are interested in learning more. The goal of the Pediatrics Club is to provide opportunities for students to be exposed to events dealing with children and medicine, raise awareness for childhood illnesses, provide talks from pediatric specialists and residency programs, and garner a general understanding of the field of pediatric medicine. The Pediatric Club fosters an environment to inspire fellow medical students and members to pursue different interests and to become involved in the welfare of the Erie community. 
---
Officers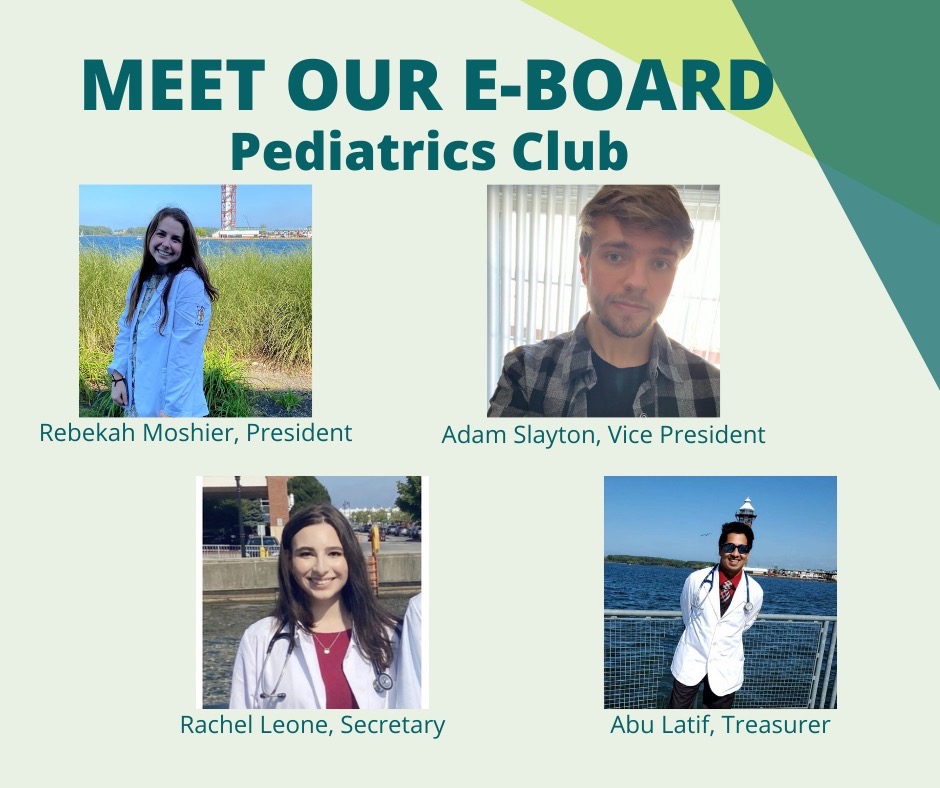 PRESIDENT: Rebekah Moshier
VICE PRESIDENT: Adam Slayton
SECRETARY: Rachel Leone
TREASURER: Abu Latif
News & Events
Pediatrics Club will be hosting a virtual speaker event with Dr. Alexis Franks, a pediatric neurologist from Children's Hospital of Pittsburgh.

Join the Pediatrics Club as they volunteer at the Erie Zoo this October for Zoo Boo! Volunteers must submit an application and attend a training before signing up to volunteer for a variety of tasks, such as crafts, concession stands, distributing candy,…

Pediatrics Club will be hosting a virtual Specialists panel with three different physicians attending; Dr. Kim Carpenter Brathwaite, a neonatologist working at a level 3 NICU from South Bend, IN and Dr. Sala, a pediatric ophthalmologist who works here in Erie, PA.

Pediatrics Club will be hosting virtual guest speakers with Dr. Koha Nguyen (Children's Hospital of Pittsburgh), and Dr. Philip Adams and Dr. Paul Hoffmann (UPMC).
---